The psychological effects of systemic lupus erythematosus: the imitator of aging
Publication
:
LymphoSign Journal
Abstract
Objectives: To assess the psychological effects of systemic lupus erythematosus (SLE), including perception of aging, in a cohort of participants who were either diagnosed with SLE or had an affected family member.
Methods: Over a period of 1 year, we conducted once-monthly face-to-face interviews with 12 participants. The participants were from 4 related families and include 7 females and 5 males. Three participants had a confirmed diagnosis of SLE. Spouses were also included in this study to assess transitivity of the psychological signs of SLE. Responses to structured interview questions were analyzed to assess the perception of aging.
Results: The major complaints in participants diagnosed with SLE were pain and psychological stress. Nephrotic syndrome, urinary tract infection, weight disorders and increased need for psychosocial support were common in the participants' medical history. Qualitative analysis of questionnaires completed by participants with SLE revealed a correlation of "feeling old" with the non-resolution of health complaints. Family members who did not have SLE also reported "feeling old". Complaints of stress, anxiety, nervousness and lack of enjoyment of life were common in those who were diagnosed with SLE, as well as those who were not. All spouses reported experiencing digestive disorders, hemorrhoids as well as various phobias, regardless of whether their partners had a confirmed SLE diagnosis.
Conclusions: In this study, we found that participants with SLE or those who had a close family member with SLE displayed psychological signs of aging. All participants had a predisposition to anxiety, while spouses developed various phobias.
Statement of novelty: We show that individuals with SLE and close family members have an increased self-perception of aging.
Introduction
Given the complexity of SLE, its clinical presentation may imitate other diseases, including autoimmune thyroid disease, rheumatoid arthritis, celiac disease, Sjögren's syndrome, myasthenia gravis, scleroderma, antiphospholipid syndrome, polymyositis, dermatomyositis, and scleroderma.
To date, there are no convincing studies on the pathological causes of behavior patterns that SLE patients experience. Further, the psychological effect of SLE on self-perception of aging has not been investigated. Here, we sought to assess the perception of aging in 4 related families and spouses who were directly or indirectly affected by SLE.
Methods
Patients
Twelve participants were enrolled in this study. Participants' consent for this research was obtained; all participants were informed that involvement was voluntary and that they could withdraw from the study at any time. All names were coded to protect privacy.
Interview questions
Semi-structured questions were directed to each participant and each session was recorded so that it could be systematically examined at a later time. To determine the consistency of the data and whether the questions had the same meaning for each participant, a pre-test was conducted with a sample of 48 individuals (22 males, 26 females; ages ranging from 28 to 64) with different demographic characteristics. As a result of this pre-test, the questions were determined to be valid and reliable.
Analysis of qualitative data was performed using MAXQDA and Voyant Tools programs which include concept mapping techniques. Data analysis was performed by conceptualization, classification, coding and component analysis (
Spiers and Riley 2019
), and was evaluated by 2 academicians who were not involved in the study field to minimize the risk of systematic errors. The evaluations were compared, the differences analyzed and the common results reported.
Coding is the process of revealing concepts appropriate to the meaning of the sentences in the data set (
Mihas 2019
). During this process, the words (part of a participants' response) are highlighted in the sentence, and word meanings are examined as a whole. The concepts introduced by coding are classified according to the topics. The concepts connected with each other as meaning and subject are combined (
Riley et al. 2019
). For instance, the relationship between the responses given to the questions "Could you tell us about your physical, psychological and mental complaints?" and "How do you feel when your complaints occur?" were evaluated by comparing the medical reports. After the interviews were completed, the participants' thoughts on self-perception of aging were analysed. Q6 measured the individual's perception of aging related to the disease and Q7 measured the perception of aging related to the complaints of the individual. Finally, Q8 was specifically directed to reveal the effects of negative symptoms of SLE on spouses after marriage. All these questions and responses were classified after recording. The themes, topics, and classification that were created were re-evaluated at the end of the study to ensure integrity of the subject.
Results
The 7 female and 5 male participants were members of 4 related families living in the province of Adana, Turkey (
Figure 1
). The maternal grandmother (Pt L), daughter (Pt Y), and grand-daughter (Pt X
1
) were clinically diagnosed with SLE. Two daughters (Pt X, Z) and 3 grand-children (Pt X
2
, Y
1
, Y
2
) did not have SLE. Similarly, none of the spouses (Pt A, B, C, D) had SLE. Participant demographics are shown in
Table 1
. None practiced regular exercise. Each revealed that their family relations were good, there were no smoking habits and alcohol was rarely consumed. None of the participants had suffered a major loss or traumatic event in their history.
Review of medical charts and results of the questionnaires revealed that, although Pt X, X
2
, Y
1
and Z did not have a clinical diagnosis of SLE, they had similar complaints and disorders as the family members with SLE (
Table 2
). Further clinical assessment (anti-nuclear antibody, anti-dsDNA, cryoglobin and complement c3 testing) did not support a diagnosis of SLE in these participants. All participants, with the exception of Pt Y
2
, had severe anxiety and phobia predisposition (
Table 3
).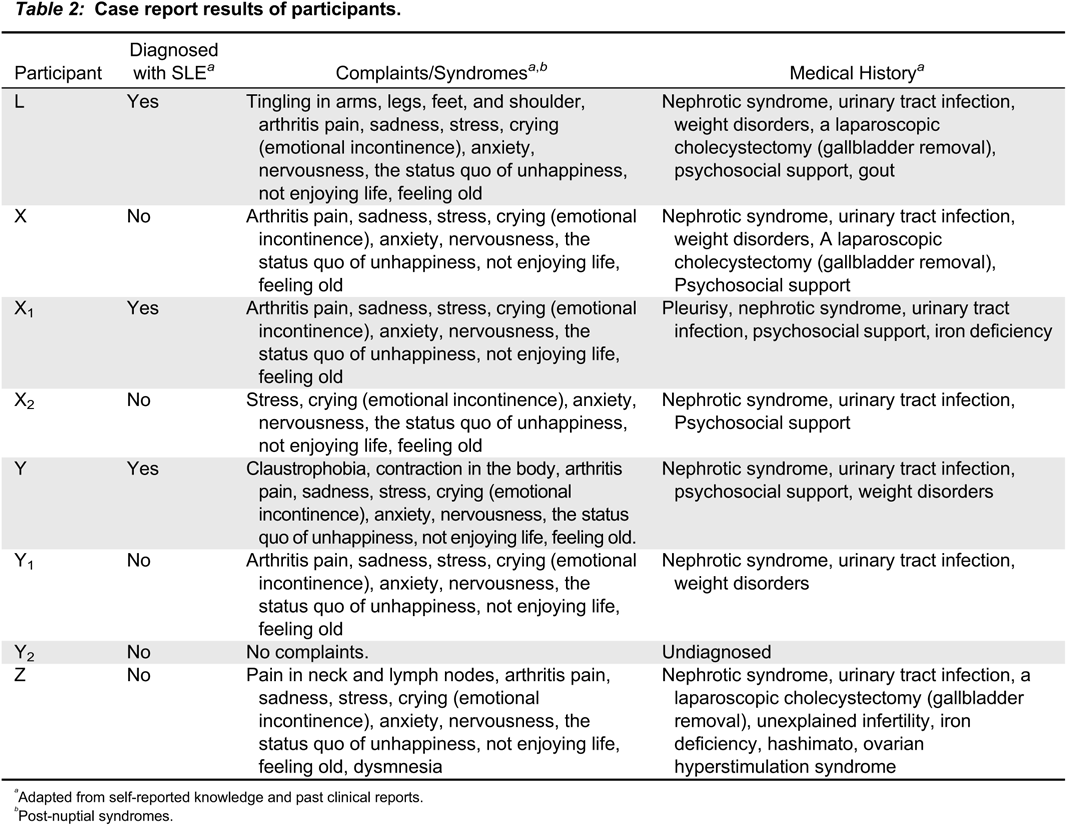 The participants with confirmed SLE were asked about their diagnosis of SLE and their perception of aging. Each believed that there was a relationship between aging and the non-resolution of complaints. One participant's response was: "My complaints are increasing due to my illness. I think I'm getting old.". Another participant stated: "My life was ruined because of this disease. I have constant joint pain. As my pains increase, I remember the complaints of old people. I think I'm getting old." All participants indicated that they preferred to give up struggling with their diseases and disorders, as their complaints could not be solved despite visits to the doctor. Participants often felt this way when the pain became unbearable. Some statements from the participants were as follows: "This disease is killing me day by day. Treatment and medications are insufficient. I feel old. This desperation overwhelms me.", "My husband is my biggest supporter. But he is not able to do anything. I have all the complaints of the elderly people around me. I am not different from them."
When the same questions were asked to the female participants who had not been diagnosed with SLE, but had symptoms of this disease, they stated that they were very anxious about having SLE. Statements include: "I am very afraid of lupus. After all, this disease seems to be taking over the whole family. We have the same complaints as my sister and my mother. From time to time we talk among ourselves. We're evaluating my mother's and sister's complaints. I worry about them."
The husbands of Pt L, X, Y, and Z (Pt A, B, C and D, respectively) were included in this study to assess the effects of SLE on psychological transitivity. Psychological transitivity is the ability of individuals to subconsciously imitate the psychological behaviour patterns of physical states and movements, including diseases, such as SLE (
Dai 2017
). In this qualitative study conducted with husbands of the participants, we found that each spouse experienced psychological problems; their phobia susceptibility increased, and they did not experience these complaints before their marriage (
Table 3
). Some responses from the participants were as follows: "I did not have psychological problems before I got married. I love my wife. But I also feel the same pains from time to time because of her constant pains. I think I'm starting to look like her.", "Even when I was in the army, I didn't have that much stress. Everything was fine in the first years we got married. Later, my wife's joint pain began to exacerbate. Pain in the kidneys and headaches gradually gained momentum. Going to a doctor continuously has worn me out. When I take her to the doctor, I go too. What's the difference between us? I think this disease is contagious. I also experience her complaints from time to time."
Pt A, B, C and D were noted to have digestive and stomach disorders, as well as hemorrhoids (
Table 3
). Each stated that their life quality was decreased, due to constant medical check-ups. Some of the responses to the interview questions include: "Going to the doctors to check-up continuously and seeing that there is no solution reduces your joy of life. Imagine that your partner is melting away in front of you, has constant pain, please think about it. My mind is always with her. Your quality of life is completely under zero.", "After my wife's pain started, I started to experience a stomach pain. I am constantly getting constipated. When I went to the doctor, he said it was psychological. This affects my life in a negative way."
Discussion
In this study, we found that the psychological effects of SLE increased the self-perception of aging, with the participants reporting themes of "feeling old". Individuals with SLE related their symptoms in a similar way to the physical and psychological decline that occurs with aging. This aspect may be an important neuropsychological determinant in SLE. Female participants who were not diagnosed with SLE also reported the same or similar complaints as their family members who did have an SLE diagnosis, including tingling in arms, legs, feet and shoulder, arthritis pain, sadness, stress, crying (emotional incontinence), anxiety, nervousness, the status quo of unhappiness, not enjoying life, feeling old. Since SLE is more common in females than males, it is important to explore whether female relatives of affected individuals may have SLE.
We found that the complaints of Pt L, X1 and Y, who had a diagnosis of SLE, were pain and psychological based. Nephrotic syndrome, urinary tract infection, weight disorders, and the need for psychosocial support were common in the medical history of these participants. While the other participants did not have SLE, their similar health complaints creates an important perception about SLE. This perception causes psychological problems and affected the spouses in this study negatively.
Various phobias were noted in spouses of the participants: Pt A: aichmophobia, pharmacophobia, iatrophobia; Pt B: pteromerhanophobi, claustrophobia; Pt C: hemophobia, carnophobia; Pt D: atychiphobia. These psychological disorders emerged after marriage, and may be associated with long-term stress and anxiety (
Fox et al. 2005
). Furthermore, the spouses each complained of digestive and stomach disorders as well as hemorrhoids. Together these demonstrate the negative impact of SLE on the psychological and medical problems that occur after marriage to a person with SLE.
The pain imbalance experienced by SLE patients should be evaluated in terms of neuropsychological aspects, and recommendations should be made to treat the psychological problems experienced by spouses of patients with chronic diseases.
This study had some limitations, including possible prejudices of the participants. Presenting the views and situations of the participants with predetermined questions limited the generalizability of the results. Thus, it would be important to perform such studies involving participants with different demographic characteristics. It may be of interest to repeat this study with palliative patients and their spouses, since palliative diseases include chronic neurological diseases (such as dementia). This would help to better understand self-perception of aging and psychological transitivity in these diseases (
Anneser et al. 2018
).
Conclusion
Our findings showed that patients with SLE had increased self-perception of aging, and were predisposed to anxiety and phobias. Close family members of individuals with SLE were found to be under psychological threat.
Appendix 1
Q1—Demographic variables (age, gender, marital status)
Q2—Do you have a Systemic Lupus Erythematosus (Lupus) disease diagnosed by a doctor?
Q3—Could you tell us about your physical, psychological and mental complaints?
Q4—How do you feel when your complaints occur?
Q5—What do you think about the reasons for your complaints?
Q6—Do you think there is a relationship between aging and your disease?
Q7—Do you think there is a relationship between aging and your complaints?
Q8—Doctor-diagnosed diseases of pre-marriage (10 years) and post-marriage, and treatment documents (Medical history).
Information
Published In
Volume

7
•
Number

1
•
March 2020
History
Received: 8 October 2019
Accepted: 20 January 2020
Accepted manuscript online: 28 January 2020
Authors
Competing Interests
The Author declares that they have no conflict of interest.
Citations
Cite As
Export Citations
If you have the appropriate software installed, you can download article citation data to the citation manager of your choice. Simply select your manager software from the list below and click Download.
There are no citations for this item
Get Access
Login options
Check if you access through your login credentials or your institution to get full access on this article.
Subscribe
Click on the button below to subscribe to LymphoSign Journal
Purchase options
Purchase this article to get full access to it.
Restore your content access
Note: This functionality works only for purchases done as a guest. If you already have an account, log in to access the content to which you are entitled.